Andersen Sewer Service
WE ARE # 1 IN THE #2 BUSINESS!
Andersen Sewer Service is the Billings and surrounding areas trusted choice for complete septic system service for 39 years
HIGHLY RECOMMEND!! I called Andersen Sewer Service in the morning and they were able to come over within hours of my call. Super friendly even with me following and getting in their way. Explained everything and showed me what was going on with our system. Gave contacts for other services and directed me in the right direction to fix our septic system issues.
Couldn't recommend Andersen enough. Called in the morning and they arrived late afternoon, completed the work in no time. Super nice and we had a good visit. Thanks guys!
Fast friendly service! No one wants to deal with septic issues but these guys were great! Appointment within 24 hours!! Will definitely use again!
Great Service! When inquiring who to use for my septic system, I was instantly referred to Andersen Sewer. The people that I talked to did not pause or hesitate who to call. I was very happy with the scheduling of the service. Due to weather concerns, they adjusted their schedule, and kept me informed when they had availability. The service was great, and answered all of my question. Highly recommended!
Excellent service! Showed me how the whole system worked very friendly and knowledgeable. Had an appointment to service my septic system in a few days. Definitely recommend them. They went above and beyond normal service company. Thanks guys!
Called Mr. Andersen on a Wednesday; he was at my home outside town Friday morning to pump clean my septic tank. Quick, clean, fast, knowledgeable. Also answered my questions on how to keep septic in good condition and about keeping house water pipes in good shape. Trustworthy and honest.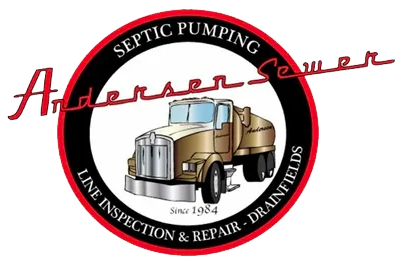 Stuart and Kobi Andersen Owners